Advarsel: Ubuntu 9.04 er ikke blevet endeligt udgivet endnu, og bør ikke installeres på produktions systemer. Husk altid at tage backup af vigtige data før du leger med programmer der ikke er blevet endeligt udgivet – det kan gå galt!
Så fik jeg også overgivet mig i dag og opgraderede til beta udgaven af Ubuntu 9.04. Det gik yderst smertefrit. Selvfølgelig tog det sin tid at hente de næsten 1.5 GB som alle program opdateringerne fyldte for mig, og selve installationen af de nye pakker tog nok også en time eller to (jeg tog ikke rigtig tid).
Udover den forbedrede boot tid (som jeg desværre ikke har lavet nogen benchmarks på eller på anden måde har nogen god måde at sammenligne før og efter) er den største ændring for mig som bruger, de nye notifications som øverst i højre hjørne informerer mig om alt, lige fra hvilket musiknummer Rhythmbox spiller til hvem af mine venner der kommer online på diverse im services.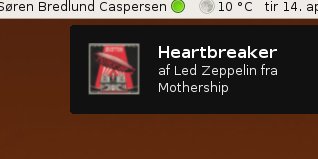 Jeg har også i et splitsekund 3-4 gange i løbet af dagen i dag undret mig over hvorfor der ikke skete noget når jeg tastede <ctrl>+<alt>+<backspace>, kun for at huske på at denne tastekombination ikke længere virker. (Der er dog et 'workaround' hvis man ikke kan leve uden denne mulighed for at dræbe xserveren).
Alt i alt ser Ubuntu 9.04, med kælenavnet Jaunty Jackalope, ud til at blive endnu en god og stabil udgivelse… og der er kun 9 dage til den bliver endeligt udgivet. I morgen er der 8 og torsdag er der… you get the point!