The Danish Ubuntu LoCo team had a community booth at the 2010 Open Source Days in Copenhagen last weekend.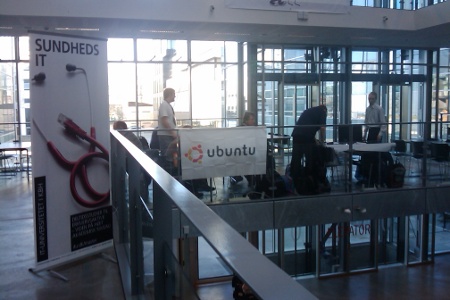 The picture shows us (and the Exherbo guys next to us) setting up early Friday morning. Later in the day a Zebrapig banner joined the Ubuntu banner. All the community booths were located on the first floor, upstairs from the firms and organisations who had a paid booth. I didn't take that many pictures, and the ones I did take didn't turn out that great, but Flickr seems to have a nice collection if you are curious.
The new theme for Ubuntu Lucid had just been released the day before, so Friday, when we weren't talking to people about Ubuntu, we spend a bit of time arguing for and against the new colour scheme.
We managed to hand out all our remaining Ubuntu 9.10 CD's and Jesper gave a talk about ubuntu-dk.
As always, it was nice to meet up with the other people from the LoCo team. Although we do a lot of work together, it is often via e-mail or irc chat. Putting names to faces is always a pleasure. The beers both Friday and Saturday night were also a pleasure – beer and good company seldom lets you down.

We even managed to do some planning for the coming Ubuntu Global Jam.
Anders is set on doing an entire day of translating Sunday 28 at his place. And the plan is to do some more general bugwork on Friday and Saturday. Location is still to be decided, but properly Jesper or I will open our homes to the masses of Ubuntu volunteers. Stay tuned for more info about the Global Jam in Copenhagen / Denmark.