As part of the Danish Team I'm going to the Open Source Days. I will be spending some time Saturday manning the Ubuntu booth but I do hope to get the time to sneak into a few talks. I might also make time to stop by Friday.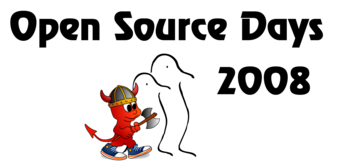 Although I have been circling some talks on my program print out, I haven't decided yet on any must-see talks. The real problem seems to be that if you decide on one talk, you rule out the others happening at the same time – also I should expect to spend some time at the Ubuntu booth.
If you plan to show up at the Open Source Days make sure you stop by the Ubuntu booth at the second floor!