Det er vigtigt at have en god lås!


Det har jeg (forhåbentlig) fået nu…
De læsere som også følger mig på Twitter eller Facebook vil vide at min motorcykel blev stjålet for ca. 2 uger siden
Hvem fuck har stjålet min MC?!? Idioter!
Det viste sig at den var blevet brugt i et voldsomt millionrøveri i Valby. (Politiets døgnrapport, DR, TV2, Politiken, Avisen)
Samme dag som jeg meldte cyklen stjålet blev jeg kontakte af politiet, som fortalte at de havde den, men at der kom til at gå lidt tid før jeg kunne få den, da de lige skulle undersøge den for tekniske spor (fingeraftryk og dna). De kunne heller ikke fortælle noget om hvilken stand cyklen var i, da den betjent der ringede ikke havde set cyklen.
Så jeg har selvfølgelig gået og været lidt spændt. I mit hoved har jeg argumenteret for, at hvis røverne var i stand til at køre væk på mc'en, så var den jo nok ikke totalskadet. I dag fik jeg så svar. Efter jeg ringede og rykkede blev jeg hentet i en (civil) politibil og kørt ud på Amager, hvor min motorcykel åbenbart har stået opbevaret lidt tid. Tændingen var lige til at pille ud og i første omgang var det ikke muligt for mig at starte cyklen, men en af de flinke betjente follede hurtigt sit multi-værktøj ud, og startede den. Smart. Så lige nu skal der ikke andet end en skruetrækker til at starte min motorcykel.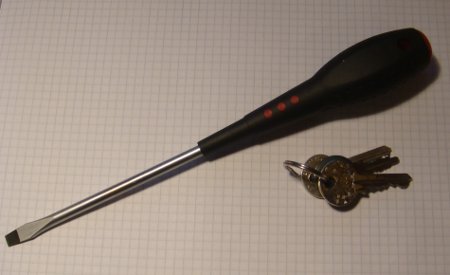 Mit nuværende nøglesæt, når jeg skal ud og køre. Lige til at have i bukselommen…
Så vidt jeg kunne forstå på betjenten så skal der faktisk aldrig mere end en skruetrækker til. Hvis man ved hvad man laver, er det rimeligt let at komme forbi sådan en tænding… fik jeg nævnt at jeg har købt en ordentlig lås til bremse-skiven?
Så hvad kan man lære af dette? Det kan altid betale sig at have en ekstra lås! Stor lås! Kraftig lås!