Kære internet,
jeg har brug for at du agerer moralsk kompas for mig. Jeg har modtaget en mail hvor jeg bliver spurgt om jeg nogensinde kom af sted til Grønland.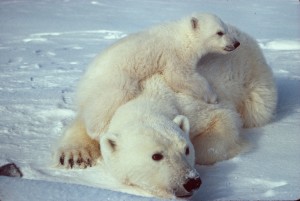 Svaret burde jo være et klart "Nej" da jeg ikke er flyttet til Grønland.
Men når det nu er fremmede der uopfordret spørger om noget på internettet, så er det vel ikke helt at lyve, hvis man fortæller dem en god historie, er det?
Specielt ikke hvis den gode historie indeholder isbjørne?
Konkret har jeg fået en mail som starter således (og ja, jeg er ganske bevidst om at jeg selv kan være ved at blive bundet en lidt for god historie på ærmet):
Hi Soren,

I just found your blog and was wondering if you ever moved to Greenland?

I am a producer on an American TV show and we are interested in finding someone who has moved there so please get in touch if you did!

Thanks,
Jeg antager at det er denne blogpost tilbage fra den første dag i april måned sidste år der henvises til.
Så kære internet, skal jeg svare ærligt som det er, eller skal jeg gribe denne chance for at udfolde mit fantastiske talent for creative writing, vel vidende at det måske ikke er det (helt) rigtige at gøre?