As promised here are pictures of some members of the Danish Ubuntu LoCo team, at the Open Source Days 2008 in Copenhagen. All pictures by Niels Kjøller Hansen.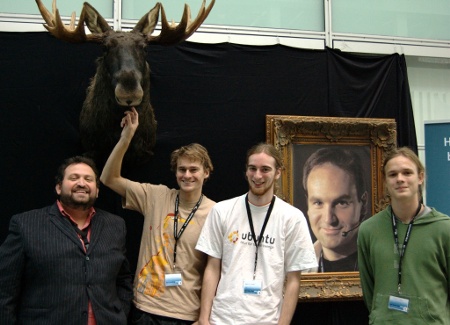 From left to right: Niels, Elge Sander, Søren (me), Mads, Mark and Sakse.
The moose is named after Helge Sander, our Minister of Science, Technology and Innovation. (Elg means moose in Danish.)
The Software Exchange was running the booth with the fancy setup. They work under the Ministry of Science, Technology and Innovation and help the public sector in Denmark choose relevant software, in particular open source software.
Below are some pictures of LoCo team members lounging in front of the portrait of the sabdfl.