Som opfølgning på min tidligere blog post om bug arbejde i Ubuntu følger her lidt mere uddybende info. Både flere (og lidt mere avancerede) bug opgaver og nogle flere ressourcer, der forhåbentligt kan gøre bug arbejdet lettere og sjovere.
Duplikats
Hvis flere forskellige bugs egentlig handler om det samme problem er der tale om duplikater, og det er praktisk at samle alt information et sted. Oftest foregår det sådan at den ældste bug forbliver åben, mens de andre bliver markerede som duplikater. Til at starte med kan det godt være svært at vide om en bug man sidder med er en duplikat, men hvis man har brugt lidt tid på bug arbejdet vil man nogle gange have en følelse af at have set den beskrevne problemstilling før – så er der nok tale om en duplikat.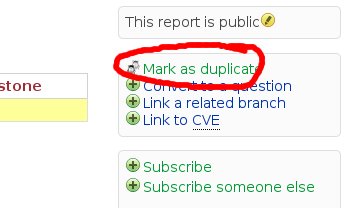 Markering som duplikat foregår i menuen ude til højre.
Link upstream
Meget få af programmerne i Ubuntu er skrevet direkte til Ubuntu. Så hvis der f.eks. er en fejl i Firefox i Ubuntu, så er den samme fejl måske også tilstede i den originale Firefox kildekode og Firefox pakken i Fedora. I disse tilfælde er det praktisk at få en bug registreret upstream og hvis den allerede er registreret så få de to bugs som beskriver det samme problem kædet sammen.
Dette foregår ved at klikke Also affects project eller Also affects distribution.
Bug squad og Bug Control
Der findes rigtig meget information på Bugs wikisiden. Her kan du finde kontaktinfo til Bug Squad, der er både en mail liste, irc kanal og Launchpad gruppe hvor man kan få hjælp og svar på spørgsmål angående bug arbejde. Alle kan være medlem af Bug Squad. Du kan også ansøge om en mentor, som altså er et erfarent medlem af Bug Squad som kan hjælpe med at sætte dig ind i en fornuftig arbejdsgang.
Hvis du føler at du har godt styr på bug arbejdet kan det være at det skulle ansøge om medlemskab af Ubuntu Bug Control.
5 a day
Hvis du har arbejdet lidt med at finde de rette pakker til bugs, der mangler en tilknyttet pakke (eller har fået tilknyttet en forkert pakke) vil du hurtigt finde ud af at det bliver lettere med tiden. Så hvorfor ikke afsætte et par minutter hver dag til lige at gøre noget godt for 5 forskellige bugs?
Dette er filosofien bag 5 a day. Hvis vi alle gør lidt hver dag burde det være muligt at holdet styr på den meget store mængde fejlrapporter som bliver indberettet mod Ubuntu distributionen.
Det handler selvfølgelig bare om at komme i gang! Hvis man er lidt glad for stats, eller måske har det lidt godt med et konkurrence aspekt, så kan man blive medlem af 5-a-day-participants/ gruppen på Launchpad. Når man har tilmeldt sig Launchpad gruppen sker registreringen om man har nået sine fem daglige automatisk. Man behøver ikke at foretage sig andet.
… men husk nu at det i sidste ende handler om at gøre Ubuntu bedre. Hvis du kun når tre bugs en dag har du stadig hjulpet – og du kan sagtens fortsætte til bug nr. 6 og 7 efter du har nået den daglige 5.
Det er nu muligt at følge med her fra dag til dag for at se om man selv har nået sine fem om dagen. Samtidig kan man, hvis man kan holde dampen oppe over flere uger, komme på nogle af de fine lister over dem der har holdt ud længst tid i træk.
Det er vigtigt at bemærke at 5 a day er blevet udtænkt for at gøre det lidt sjovere at triage bugs. Det er ikke ideen at man skal gøre noget ved bugs som egentligt ikke var behøvet, bare for at kunne tælle det med i en af sine fem om dagen. På sammen måde som der ingen ide er i at lave unødigt bug-arbejde bare for at få karma.